HOW FUN IS THIS TO REACH AROUND THE WORLD
AND
MEET NEW ARTISTS and get to know them through their BLOG!

At the end of the introductions I tell you a little more about myself in answer to the questions blog hoppers (pun intended) are asked.


I was introduced by
who lives half the year in France and the other half in England. She has become my friend. I am honored that Marion chose to include me in the Blog Hop. Here's one of Marion's awesome paintings. Click
here
to see more.
Nodding Sunflowers by Marion Hedger
I am excited to introduce you to
Dee Sanchez
Dee is also a friend, but I met her right here in my community.

Dee Sanchez lives and works in the village of Alameda, New Mexico.
She is an intuitive colorist and paints in the alla prima style, completing every painting in one sitting, whether it be a small 6x8"canvas of sunflowers or a 60x60" large painting of a Santa Fe landscape.
Her subjects include grand vistas, cloudscapes and skyscapes, huge, chaotic masses of native wildflowers, and the small villages and people of her state. She is most known for her paintings of sunflowers.
Dee is also a plein air painter and a member of the Plein Air Painters of New Mexico. As Dee likes to say."I absolutely love painting in the studio but my greatest passion is traveling through New Mexico on short day trip adventures, painting luscious oils out of the back of my car."
Dee is a juried member on DailyPainters.com, one of the largest daily painting websites in the world, and also a member of DailyPaintworks, a fantastic website showcasing artists from all over the world.
Dee was the poster artist for the 2012 Albuquerque International Balloon Fiesta and has just finished a huge project called RETRO CHALLENGE. Dee painted 150 paintings in 150 days for 150 dollars each. They flew out the gallery door, Weems Gallery, yet some are still available. Contact the gallery or Dee. Follow Dee's blog.
Red Sunset by Dee Sanchez
12x16
Duet by Dee Sanchez
18x36 SOLD
I also want to introduce
I found Linda on our blogger website and follow her regularly. She posts interesting sharing of information type of b
logs
. Linda lives in Connecticut with her culinary artist husband and their three beautiful children. She is opening a new gallery and studio. Wow!
Artist infused with an Entrepreneurial Spirit

At a very young age Linda loved to draw and create with pencil and magic marker. In third grade she began drawing dog portraits. By high school, she had completed both beginning art and business classes. With a few months of training from a local professional artist, Linda began designing, painting and selling t-shirts to her friends, family and campers during the summer months.
During Linda's college years, when she studied Business Administration, she signed up for as many art electives as she could and from that point on creating ART would play a big part in her life.
For the next 10 years Linda continued to weave together both her love for creating art with a business mindset to forge a career in the marketing, advertising and graphic design world. Linda's business, Image Express, worked with both local and nationally known clients such as the Screen Actors Guild of New York, CRN International and Masonic Charity Foundation.
An "al a carte" art education from various universities and local art schools led Linda to a position in the education department at the New Britain Museum of American Art in New Britain, CT where her love for art history, the study of contemporary artists and teaching art blossomed.
who has been compared to Dr. Seuss, Gustav Klimt, and the Gumby animator Art Coakey. Susan and I met on-line when she started following my blog. Her work was so
unusual and fun we have remained blog friends. Follow Susan's blog.
Susan currently resides in a small
rural
town in RI, a mere three houses from the ocean.
She has been making fantastical watercolors for over 35 years. She is inspired by her love of color, a sense of playfulness and whimsy and a passion for painting. She creates one page stories that take place in imaginary worlds.

She is currently exhibiting at Galerie Spirale and Chateau de Waroux in Belgium, The Artful Heart in Arlington, MA, and the South Coast Artists Studio Tours.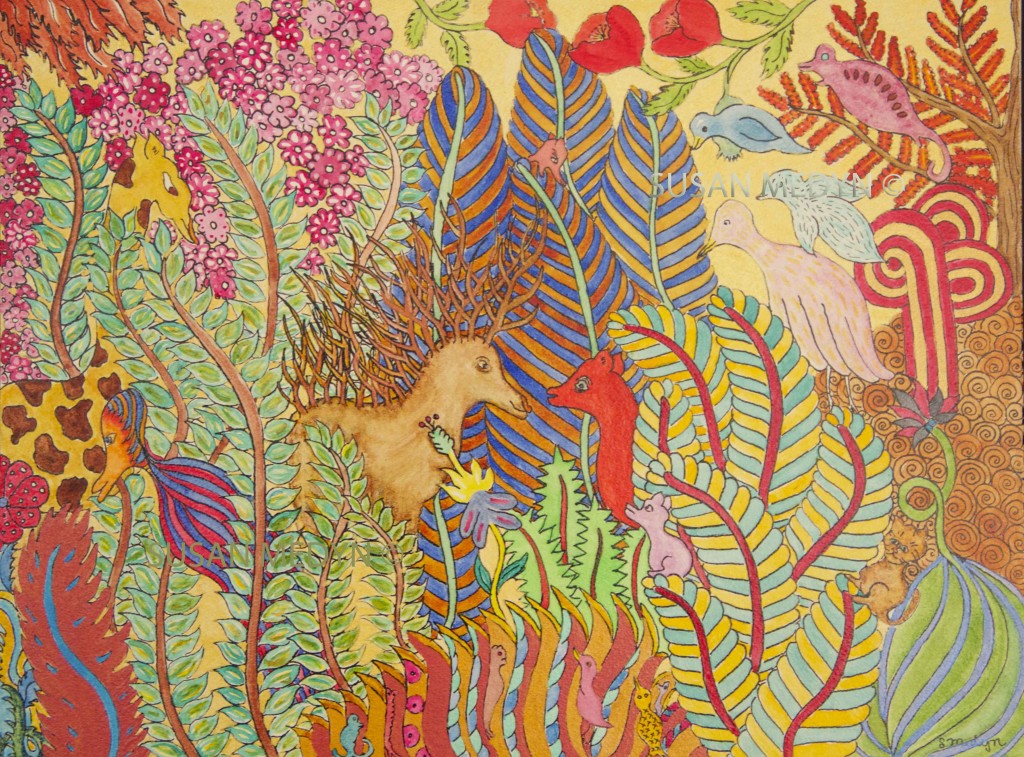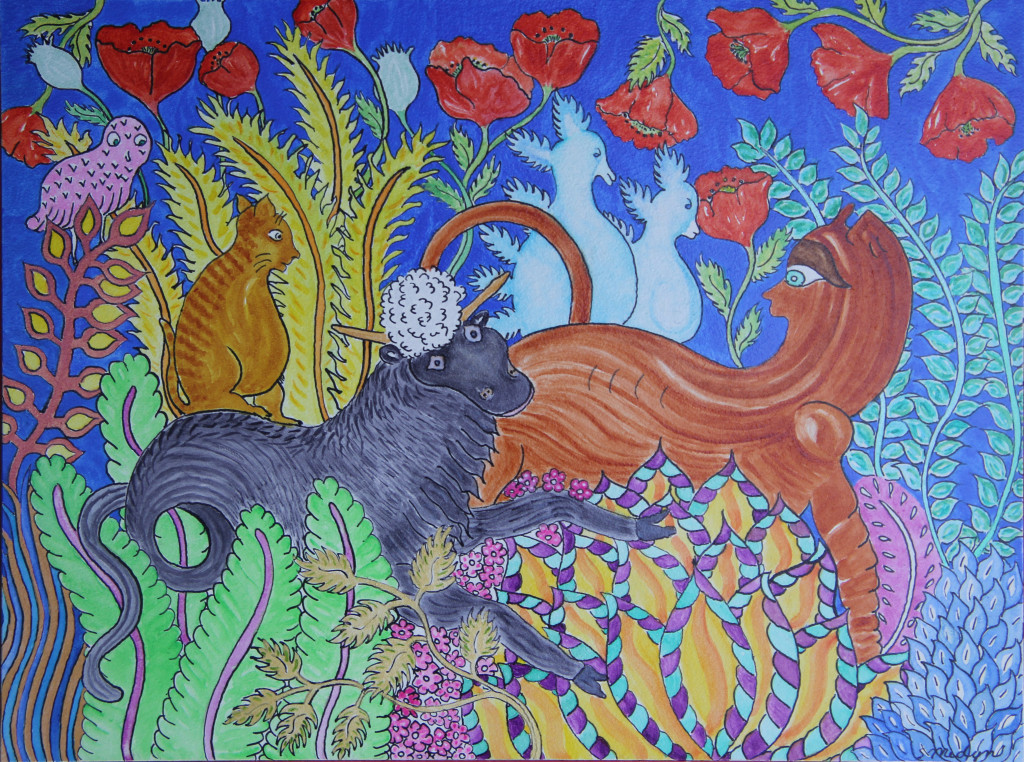 "Medyn is gifted with a color sense as savory as fresh fruit and an imagination capable of setting genetics soundly on its ear. She gives life to an astonishing wonderland of beasties, plants and totemic trees, part vegetable, part animal and part apartment house for a diminutive universe of creatures. At times her work superficially recalls such diverse artists as Paul Klee and Dr. Seuss. Yet her work is decidedly her own; it has remarkable ability to appeal to virtually every level of sophistication." – Noel Suter, Metroland
Now my answers to the blog hop questions
What am I working on?
2014 included more than the usual amount of
travel, all of it for art: painting, workshops and photography. I took four paintings trips this year; two were MAJOR and included sightseeing and photography, and plein air painting. Now I am in the process of creating a series of paintings of France based upon my time there. Additionally I spend a lot of time marketing my art on-line through my
website
, my
blog
, and even Facebook
. Beginning in January 2015, my art will be represented by
Weems
Gallery in Albuquerque.
How does my work differ from others in its genre?
I am working very hard to paint with more intense and lively colors, yet still be a representational artist. The use of pure colors brings more excitement to me and my paintings. Even when painting in plein air, I like to push color a bit and widen the value range.
Why do I create what I do?
I can't
not
paint. Like an addict, I can't stop because I absolutely love to paint and to push myself to constantly improve. I create and surround myself with beauty: in my home, my yard, and my wall art. I believe when my paintings find a new home, they provide beauty and lift up all who view my work.
How does my creative process work?
Beauty again...it is everywhere. When I see it, I want to paint it. The challenge for me is to narrow down my subject into an actual painting. I don't know how painters of the Grand Canyon do it. I have to zero into a smaller area, one that doesn't include a 30x60 inch canvas. I use my creative process as an excuse (a very good excuse) to travel to interesting locations not only near me, but in various other states and even abroad.
After sketching in the image on the canvas, I block in the colors using only transparent dark paints. Then I develop all areas with opaque paints. I leave the highlights and some dark touches for the third and final step; sometimes called the "eye candy" of the painting.